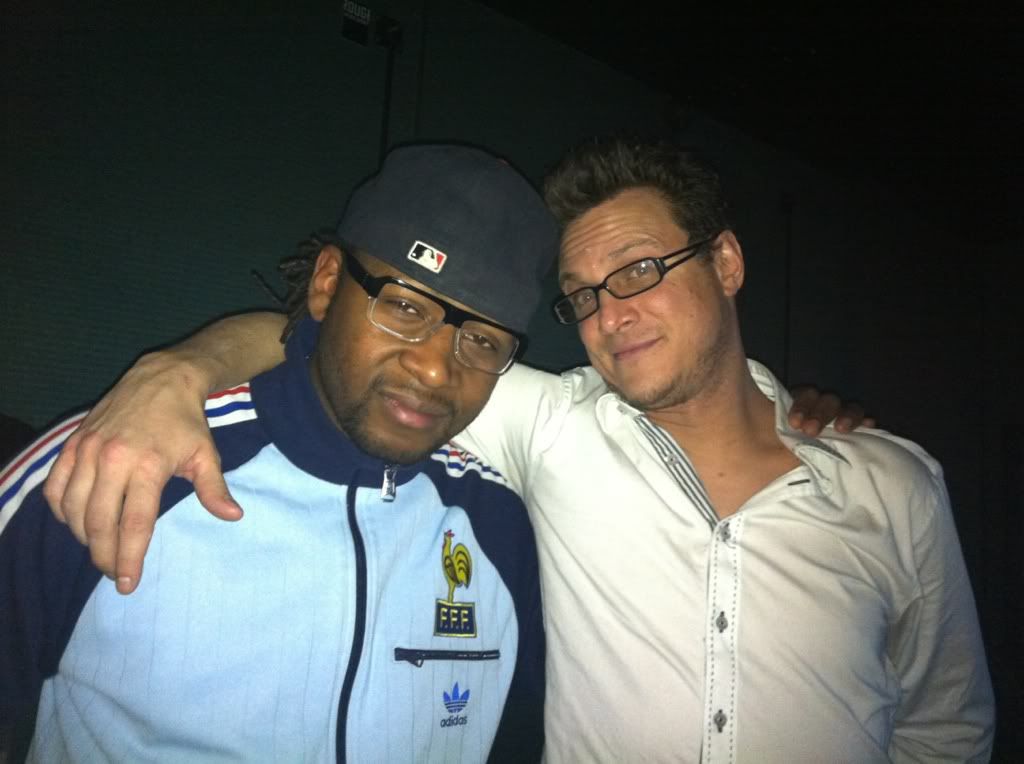 Hello bonjour! Last weekend, Sunday February 29th, I attended the the first
Couscous Comedy Show
of 2012. Actually it was my first Couscous Comedy experience and I was pleasantly surprised by how much variety the diverse group of performers had to offer to this audience. The show took place at the
Cabaret du Mille End
on Avenue du Parc. I had not been there before but can't wait to go back, this venue is a hidden gem. Tout simplement, its set up in a way that no matter where you are, you won't miss whats going on on stage. Great for me, I'm not tall. A good amount of tables and additional seating all around which was well needed to cater to the huge crowed that showed up that night.
Hosted by the Couscous Comedy man himself
Unclefofi
, this show had quite the welcome. The show started out with 2 musical acts to delight the ears while audience members chose their seats, got their drinks, waited for their friends and yes off course lined up for the couscous. I unfortunately didn't get to the couscous in time but boy did it smell fantastic. Only one of the reasons why I'll be sure to go back! The only staff that I really got to chat with were the bartenders, what a surprise, and they were awesome! My good friend and second pair of eyes and ears for the evening, Martine, had a good few questions for the barmen and they were very helpful to these two nutty girls. And for the host, boy does he know how to get a crowd going, C'EST CA? !!!
I must admit that I haven't been to many french comedy but that's all going to change mes amis. especially since I got the chance to see a few humorists that I had heard great things about but had not seen perform before. The first was
Julien Tremblay
, who was so much fun. He performed his whole set with his guitar pairing jokes with melodies. How slippery was the floor of that front row Julien *wink*. Et ensuite Mr.
Emmanuel Bilodeau
. Very entertaining but for some reason, he kept calling himself a racist! Et aussi,
Francois Bellefeuille
. What great energy this performer has. I especially liked how he expressed himself when talking about dinosaurs. Also there was
Jeremy Demay
. I had seen him before but on TV which is obviously a very different experience. So it kind of was like seeing perform for the first time. These may all seem like you had to be there situations, well um ya, you should have been. All extremely funny acts that I hope to see again in the near future.
There were 2 acts that I have seen many times before, but with a different vibe at my first Couscous show. First off the amazing
Eddy King
. This was the first time that I got to see him perform in French, not only is he a super friendly guy, but french or English, he never disappoints. I'm not ashamed to say that I damn near fell off my seat laughing. I didn't get a chance to catch any shows on his last tour so I was very excited to see him in this line-up. And off course there was the hilarious
Morgan O'Shea
. I was surprised and pleased to see an English set on this mainly french event. It's nice to see that comedy can let some differences be out aside, not as if we have any language problems in our city. That was a breath of fresh air and the crowd seemed to enjoy it as well. You guys seriously both killed that night! Keep up the awesome work.
Along with the comedic acts, there were other performances to keep the crowd on their toes. One was a sketch act by featuring
Zalfa Chelhot
and our lovely host Unclfofi. Then a couple of tricks by illusionist
Vincent C.
who did some naughty things with balloons! And lastly, a poetic rap number by a guy introduced quite simply as Alex. as you can see, there's all kinds of variety at a Couscous show!
Do you like these pictures? Check out
couscouscomedy.com
for more pictures by
Dom Bernier
.
But to add to all this bilingual fun, there was an incredible surprise near the end. A surprise performance by the one and only
Sugar Sammy
. I love how he just seems to pop up at random shows in and around the city. Not a happening that can be planned, but always an absolute treat if you're lucky enough to catch him make an impromptu appearance.
As I mentioned before, I went to the show with my friend Martine. It was fun for us because we got to see a show that combined a couple of her favorite french comedians that she often tells me about and some English act that she had never seen before. It was a great mix and an interesting night. Can't wait for the next Couscous!
Tu